Vulgar Durian
Wow, what a great idea. A durian chart.
Perfect for rookies like me. Simply point and choose.
In The Star today, a durian seller has created a 'durian chart' to make it easier for his customer to choose. The chart is based on the popularity of the durian.
The chart is actually a four-tier wooden rack at his stall, with the chart-topper at top and the less popular at the bottom.
So this year, the champions are Raja Kunyit, Kulit Hijau No.15 and ... Lan Ciau Yuan.
What?
Lan Ciau Yuan.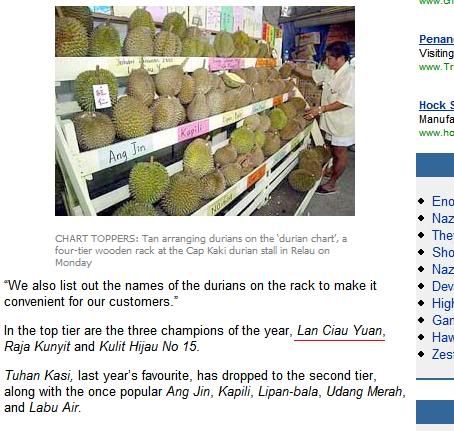 Is this some kind of a joke? A typo maybe? Is that really the name of the durian?
In the busy, noisy restaurant...
Customer : Towkay ah! Lan Ciau Yuan je ke.
Towkay : Huh? Sa mi ah? (What?)
Customer : Lan Ciau Yuan je ke lar! (Louder)
Towkay : Huh??! Loo ai sa mi?? (What do you want?)
Customer : Lan Ciau lar, Lan Ciau lar!! (LOUDER!)
China Customers : *ears drop*