50 Movies Hidden in a Painting
It's a flash puzzle game where you have to guess the
50 movie titles
(Dark movies aka horror movies) hidden as visual clues in the painting. It's a promo for M&M's Dark Chocolate. Can you find all 50 titles?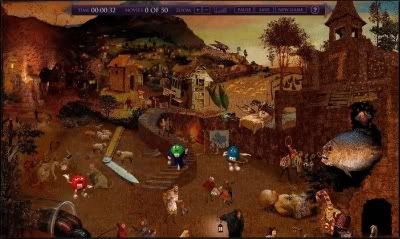 Some are pretty obvious, while some take a while to guess, and some don't really make sense.
I managed to get all 50, thanks to Google and years of movie-watching. If you need help, simply highlight the area between the brackets [ ] below.
Answers:
[
1) Twin Peak, 2) War of the Worlds, 3) Clockwork Orange
4) Invisible Man, 5) Candyman, 6) Eraserhead
7) Twelve monkeys, 8) Jaws, 9) Howling
10) House of Wax, 11) Child's Play, 12) Rosemary's Baby
13) Dark Water, 14) The Ring, 15) Birds
16) Butterfly Effect, 17) Alien, 18) Saw
19) Leprechaun, 20) Blade, 21) Silence of the Lambs
22) Nightmare on Elm Street, 23) The Fly, 24) Friday the 13th
25) The Crow, 26) The Hill have Eyes, 27) The Omen
28) Piranha, 29) Halloween, 30) Scream
31) Seven, 32) Children of the Corns, 33) The Village
34) Pumpkin Head, 35) Sixth Sense, 36) The Shining
37) 39 Steps, 38) Psycho, 39) Wickerman
40) The Grudge, 41) Texas Chainsaw Masacre, 42) Dead Zone
43) Creature from the Black Lagoon, 44) Lost Boys
45) The mummy, 46) Beetle Juice, 47) The Signs
48) Blue Velvet, 49) Pitch Black, 50) Rear Window
]