Pulau Pangkor
Hey, I'm back! I have been real busy for the past month, on the road most of the time, due to work. Thus was unable to update this. This post has been sitting on my laptop for quite sometime.
It was Mami's birthday and we went to Pulau Pangkor to celebrate and to relax. If you don't know already,
Pulau Pangkor
was where it all started for us.
First stop, Teluk Intan. We have never been there, and I have always wanted to see the leaning tower.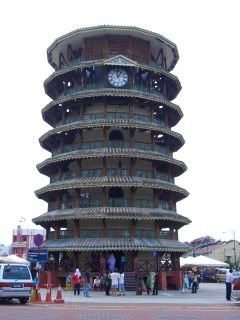 Impressive
.
We spent a few hours here in Teluk Intan. Not knowing the place, we drove around to look for food. But in the end, we decided to drive to Sitiawan. But by the time we got to Sitiawan, it's way pass lunch time, and most of the restaurants were closed. Found a shop by the road side. Food was so-so.
We also tried to look for the famous hock-chew peah (FuChow biscuit), thanks to Teckiee of (
Eat First Die Think Later
) and
Viewtru
. Found the shops but they were closed.
Then it was off to Lumut!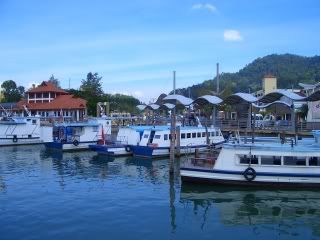 Lumut Pier

Lumut has really changed alot. There's a multi storey carpark now, and the pier has been upgraded. Really surprise to see the development there, and I really like what they have done with the area. Almost felt like I was in Barcelona.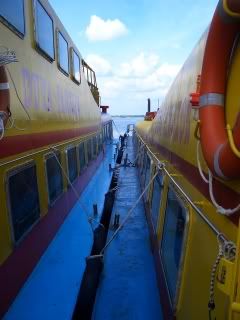 At the pier, the ferries were parked one next to each other. So to get to your ferry, you'll have to pass thru a few ferries before getting on the outer one, that will be leaving for Pulau Pangkor.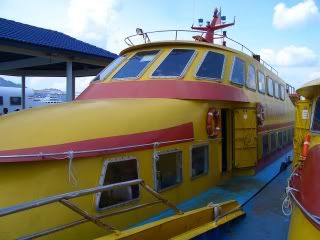 The big yellow ferry.

The ferry ride takes about 30 minutes. At Pulau Pangkor, we got on a taxi/van (cost RM18) and headed straight to the hotel,
Pangkor Island Beach Resort
(formerly known as Pan Pacific Resort Pangkor).
A word of advice. Book your rooms through their website. Much, much cheaper. And you don't have to listen to 'robotic' staff that makes you feel you have just interrupted her sleep.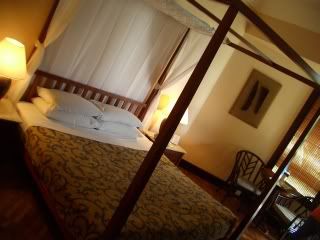 Four-poster bed! Nice...

That's our room at the Pacific Wing. It has a balcony facing the more quiet Pacific Wing swimming pool.
Yiyi : Papi, Papi...that lady shame shame...
Papi : Where?! Where?!!!
Mami : Oi!!
The first thing we did was to get our transportation. A 'kapcai'. Got one from 'outside' (not from hotel) for RM45 for 3 days (inclusive of RM5 petrol). But getting the motorcycle from outside means you cannot ride it into the hotel compound. That means everytime you come back to the hotel, you'll need to leave it outside the compound, at the guard house, wihch is about 600meters from the hotel building. And that really sucks. But they do provide a cart to transport you in, but you'll need to wait for it.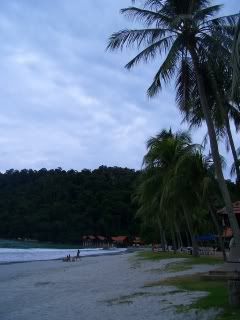 Wish you were here...
Lush greenery...
.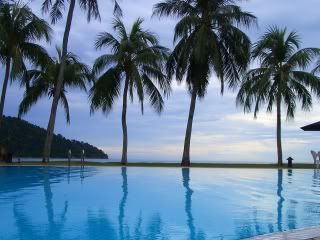 Nice pool.....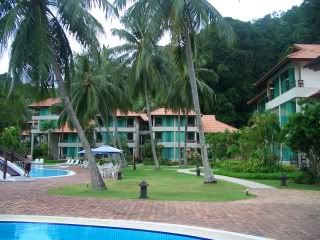 Beautiful......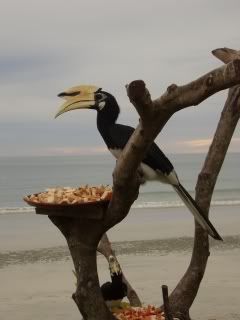 Wah...got hornbills sumore.......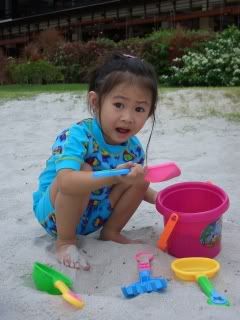 "Wah....so nice ah?! I want to come again!"
The hotel is really a nice place to relax. It's beautiful and has lots of excellent facilities if you are bored. One thing is that it is very far from town. So you'll need your transportation or you could simply call a cab.
There is actually a pier near the hotel, but the schedule is less compared to the main one in town. We decided not to go to town and took our ferry here.
On the way back, we did managed to get the
hock chiew peah
. From both shops,
Cheong Chia and Sin Lay
, as suggested by Viewtru. We both like the one from Cheong Chia and the onion version.
An update on Mami. She is doing fine and resting at home. Her medical report seems to suggest that she's responding to the medication. It will take some time for her to fully recover but we are just glad she is getting better. Take care, Mami.
And oh yeah, Happy Birthday Malaysia!
Selamat Hari Merdeka!!