Yiyi had a haircut....again
It was just 6 weeks ago, Yiyi had a
haircut
. Now, her hair had grown, especially hairs covering her forehead. It almost touched her eyes. It also made her eyes area itchy, and she would rub it with her little fingers.
So last week, we decided to cut her hair again. It was during her bathing time. She sat on the bath room floor, playing with her rubber ducky. Mami was holding her, trying to distract her from me, while I was holding the scissors. It's a special scissors for babies, with no pointed edge, but rather a rounded one. With one hand holding the scissors, the other hand was trying to grab hold of her hair, with my fingers making a scissors shape. *snip snip*
Mami : Aiya!! Too much already. Too high lar!!
Papi : Cannot lar, she is moving a lot, and doesn't allow me to touch her hair lar.
Yiyi : eemm.....*brushing off my hand*
Papi : Yiyi, you see the rubber duck duck...... *snip snip*
Mami : Aiya not nice already lar.
Papi : Senget lar. Right side higher than left side. Don't move Yiyi. *sinp snip*
Mami : Ha ha ha ... look likes coconut head!!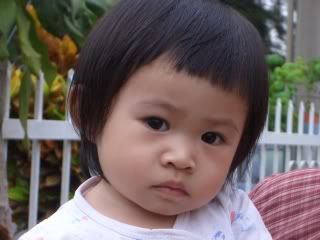 Yiyi posing coolly with her new haircut.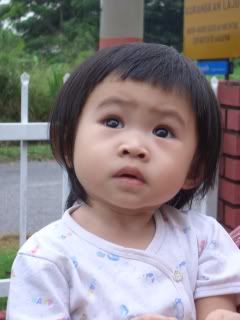 "Look Papi, Superman"
We only cut the front part (forehead), so we let other part of her hair to grow. Hmmm....this should last till Chinese New Year.