My trip to Jakarta
Last week, I went to
Jakarta
again for a meeting. We departed from KLIA on Wednesday, and came back home on Friday night. The meeting went smoothly. The trip was fruitful. My colleague (in Marketing) also managed to see some of the VIPs to push for our company. Good job!
So what did we do in Jakarta? Makan, of course! The first day we arrived, our local agent recommended a grilled fish stall. "No aircond, just open air stall. OK?" he asked. My colleague and I looked at each other and said "No problem, let's go!". We arrived there after some driving around, I think the local agent got lost. He even needed us to tell him where to go. We reached there slightly passed lunch time, so the lunch crowd was not there. Good bcoz we could have some peace and quiet. But some of the dishes were sold out. We ordered 3 grilled fishes (1 ikan kerapu, 2 ikan kue (??)). It was fantastic!! The fish was grilled on a metal net, with coconut husks. The fish was fresh. It was well marinated, with sweet and slightly sour taste. My colleague said it tasted like percik sauce, but I tasted it like satay marinated. We ended up ordering 2 more fishes, and 2 more big plates of rice!! Other than fish, they have squid, prawn, chicken, lamb, and beef. All barbeque style. Our local agent was concerned that we are not used to lunch outdoor, in open space area, and not so clean environment. But I think he should have seen our Chan Sow Lin Fish Head restaurant.
At night, we entertained some VIPs, so we only managed to grab some fast food. Nothing special. But the next day, we went 'jalan jalan cari makan' again. We ended up in Pondok Sedap Malam.......mmmmmm...... (Translation: Nice Night Hut??)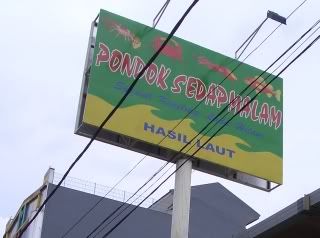 It's a typical Sundanese/Chinese restaurant in one of the ChinaTown in Jakarta.
This is exactly how it was done in the Grilled Fish stall I mentioned earlier.
We noticed they also have grilled fish, but we decided not to have it, since we had grilled fish the day before. The food here tasted so-so. Bolehlah..
One thing I noticed in Jakarta, is that it's people are so poor that they have to find ways to make a living. One is the car jockey, as the Indonesian called them. These people actually help and guide you to park your car, help to guide you to reverse out your car onto the main road, help you make u-turn by blocking the on-coming traffic for you, help you to block cars on the main road so that you could drive your car out etc. Normally they expect a tip from you, around Rp.1000 - 2000. Another group of people actually sings. With a portable Karaoke set that they sling over their shoulder, and a microfone in their hand, they walked from one person to another asking for money. Normally they will bring along a baby and a toddler for added impact (kesian lah...).
But these guys top my list..
A bunch of Indonesian guys were spotted doing the lion dance! Complete with matching kungfu outfit, drum and cymbals, these guys went from one house/office to another, dancing all the way, hoping that someone will asked for their service to dance in their house/office. I guess life is really difficult here.
On the last day, I have some free time to check out a nearby market, about 15 minutes walk. On the way I spotted a stall on the kaki lima selling used phone cards! Just what I was looking for. It was actually Mami's hobby, she keeps used phone cards. I will blog about this in the future. The market looks like our Petaling Street, complete with the roof. It sells cloths, shoes, souvenirs, leather goods etc. Going back to the hotel, I decided to try the Bajaj.
Inside the Bajaj.
It costs me Rp5000 from the market to the hotel, about RM2.
With all the security precaution taken by the shopping complexes and hotels, I felt safe in Jakarta. Being a Malaysian and able to speak and understand Bahasa Malaysia is an advantage. There is no problem getting around Jakarta, the food is nice. I will definitely come back to Jakarta. Maybe a holiday with Mami. Backpack, the two of us. :)
makan: Malay meaning eat.
jalan jalan cari makan: A food/restaurant review TV show in Malaysia. Malay loosely translated as to look for food.
ikan: Malay translated as fish. Kerapu and Kue are two types/species of fish.