Twin Towers
For Merdeka. Some decorated their houses with Jalur Gemilang, the Malaysian flag. Some put up banners and posters, shouting Merdeka slogans. Others created the Jalur Gemilang using the most unusual materials, aluminium cans, kacang putih, flowers etc.
But this guy is amazing. He actually created a replica of the Twin Towers using books in front of his double-storey house. He actually occupied two houses, next to each other.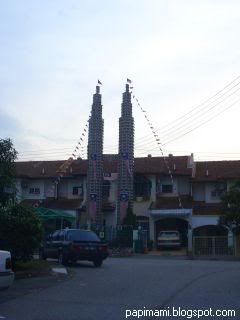 Who is he? Billi Lim.
Billi who? Billi P.S. Lim. The author of the book titled "Dare to Fail" and also a motivational speaker. Bukit Bintang voters must remember him in the past election as the independent candidate who lost his deposit, again.
The structure is a very tall structure, taller than the double storey house. As he claimed on his
website
, "The tallest book tower". The frame was built with a sort of metal, looks like aluminium, and his books were arranged around the frame, till the top.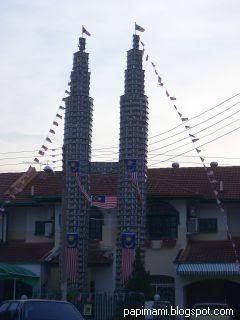 I am not sure about you, but if I leave next door to this 'twin towers', I will be very very worried.
I also checked out his website, when I came across this:
Billi appointed as member of Advisory committee of Hair Masters Solan (??) & Hairdressing school, the official Hair Stylists for the Miss Malaysia / Miss World pageant.

Solan?? LOLOLOLOL!!
An advisory committee of hair stylists?? hmmmm.....I don't know.....