Bluetooth RC Car
For gadget lovers out there, check this out....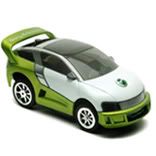 This is the Sony Ericsson Bluetooth RC Car: CAR-100. *droooooll*
You use your Sony Ericsson Bluetooth mobile phone to control the green and white car and to charge the car as well. Mobile phones that are compatible are K700i, T630, P900, Z600, T610, P800, T68i and T68. On these phone, you will need to install either the BluetoothCar Java application or the CAR-100 Controller software application depending on the model of your phone. To control the car, the keys on your mobile phone are used. Price? RM399. No bigger than a matchbox, you can control the car within a 10 metres radius.
If only I have a bluetooth phone.....