Celebrating the Tang Lung Day
So yesterday was Mid Autumn Festival. There was a Tang Lung festival organised by the neighbourhood committee near my parents' house. The event was organised at a playground and started at 8pm. Mainly it was attended by residents around the area.
We had dinner at around 8pm. It was delicious!! The
Hailam chicken
was superb!! I 'tambah nasi' three times, Mami twice. After dinner, we went out to decorate the house with paper tanglungs. As the crowds got bigger and bigger at the playground, we went out with Yiyi to join them.
Mostly children, of all races, with various styles of tanglung. Spiderman got, Mickey Mouse got, Hello Kitty got, flashing disco lighs also got. And not forgetting the Ultraman and the Doraemon. Quite a number of kids drooled when they saw
my
Yiyi's Ultraman. "Wah!! Ultraman lar!".
There were a couple of kids with DIY tanglung. A broom stick with a wheel mechanism and a tin-tepung-susu/tanglung at the bottom. When pushed, the wheel somehow will spin the tanglung.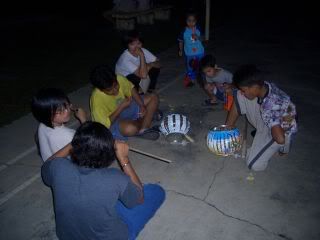 Some kids with the DIY tanglung.
Yiyi was very excited, and was kicking in my arms. The other kids also were playing with candles and tanglungs. Soon, some adults (comittee members, I guess) asked us to gather around and have a walkabout around the neighbourhood.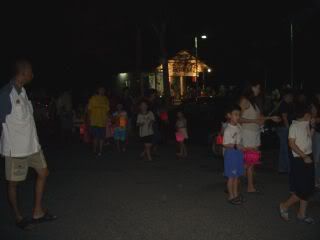 We joined the walkabout for about 100 metres, ha ha ha...because Yiyi is getting heavier!! And I was wearing my office attire. So we went back to my parents' house to chill out with my parents and enjoy our paper tanglungs.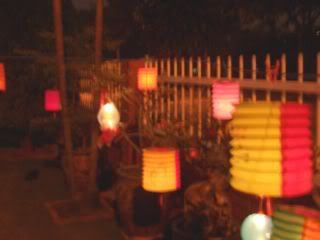 Paper tanglung at home.
But the event could have been more fun. Most children were playing among their siblings and parents, rather than playing with other children and making new friends. And some parents were there to chit-chat, and hang around the makan table. It could have been more fun if some games were organised for the children, like past-the-parcel etc. But it was a great event to get people together nevertheless.
tambah nasi: Malay meaning 'to add rice'. Normally we 'tambah nasi' if the rice serving is not enough.
tin tepung susu: Malay meaning the container of milk powder, cylinder in shape and made of tin/aluminium.