Tang Lung
Lantern, or Tang Lung in Cantonese, is one of the specialty of the Mid-Autumn festival aka mooncake festival.
Everywhere you look now, hypermarkets, pasar malam, street markets, and groceries stores, you will find lanterns, of all shapes and sizes, being sold. Last week we decided to get a couple of tang lungs for Yiyi first mid-autumn festival.
At the hypermarket,
Papi : Wah!! Look at all those tang lungs. The paper type, the plastic type, the colorful type, there are so many of them.
Mami : Yalor, last time we only have the paper type. We even made our own tanglung.
Papi : Look at this one, inflatable tanglung. They have Doraemon, PowerPuff Girl, MashiMaro, Ultraman.
Mami : The Doraemon cute lar, let's get this for Yiyi.
Papi : OK. But look at this Ultraman one, not bad also.
Mami : One enough already mah, some more girl-girl don't play with Ultraman one.
Papi : But look at this Ultraman, so macho leh, Yiyi will love it.
Mami : You want it for yourself, is it? OK lar, buy lar.
Papi : he he he...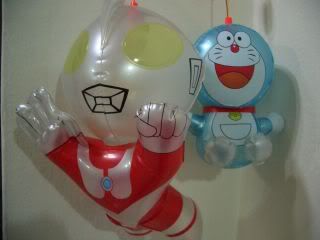 "The dynamic duo, Ultraman and Doraemon"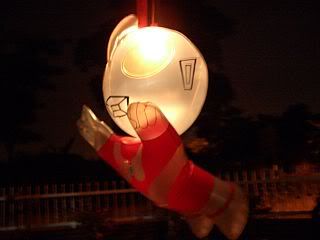 "Ultraman couldn't stand the harsh environment on Earth, and the light on his chest went tee...too...tee...too...tee...too, so he flew back to Ultraman planet."