A new makan place in town
When Mami said "let's go makan" yesterday during lunch time, I suggested Lobster House in Taipan, USJ. I got to know about this place from a fellow blogger
mdmafia
. You see, Mami's got a raise!! :)
So we went there during lunch time, we were expecting a bigger crowd but only 2 tables were occupied. Good, not crowded, right for us. I think the name "Lobster" chase customers away because people always think it is expensive. Actually the place is not expensive at all. But it could be their promotions, since they are only 1 month old.
We went for the mushroom soup, smoked salmon fresh salad, fried mantau, Mami went for the seafood platter, and lamb shank for me.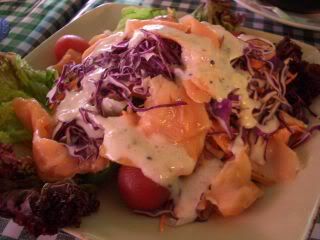 The smoked salmon salad. Tasted OK, vege is fresh.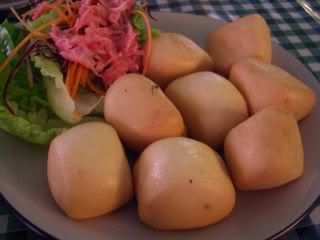 Fried Mantau/Bun. Soft and fluffy inside, crunchy outside. Not to oily. Good.
Mushroom soup. Watery, a bit sour. I also tasted a bit bitter. Bad. Give it a miss.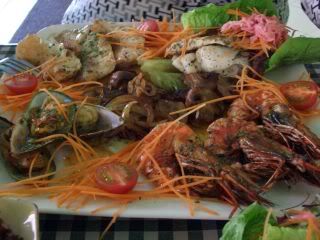 Seafood Platter (RM22.90). Mami always have problem deciding, with so many goodies on the menu, he he he. So I suggested this. Everything comes in 3, mussels, prawns, squid, fish, with saute mushrooms and onions and some salad on the side. And the portion? BIG! But the prawns were not fresh though.
Lamb shank (well, after I was done with it he he he - RM16.90). I forgot to snap a photo of it before I ate it. The portion is big, the meat's soft with spices. Taste? Excellent! But I thought the dish comes with potato strips, as what I read on the menu, but I got chunks of pumpkin and also kailan.
The price came to about RM68.99 with gov tax. No service tax though.
It was good overall, not pricey, we will definitely come back for more. Especially for the lobster.
We left with a full stomach, and a big smile on our face... :)
makan: Malay meaning eat/to eat