Singapore McDonald's
I got this picture in my mail box today. "Why McDonald's in Japan has a higher sales volume than McDonald's Singapore?"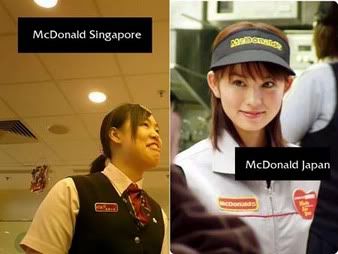 Well, I do agree that a pretty face sells. Look at all the product ambassadors out there. But I also wanted to commend Singapore's McDonald's for their employment policy.
For those who have been to any MacDonald's in Singapore will sure to notice that other than employing hot young teenages as front line, they also have senior ciizens and the disabled, manning the counters. I think this is a good effort by McDonald's to be a responsible employer in Singapore. Not only they provide a way for these people to earn a living, but also they provide a chance for these people to be part of the community. With work, they will have a chance to prove themselves so that they don't feel left out in the fast pace of living in Singapore.
Good job, Singapore McDonald's.