Rojak
So yesterday, after the Yiyi snake-wrestling incident, we went to SS15 Subang Jaya for lunch. We have been spotting this Rojak stall (opposite a Shell petrol station) that has a queue that almost stretched to Great Wall of China (well, almost). So we decided to check it out.
Lucky when we arrived the queue was not that long, it only stretched almost till Vietnam (well, almost).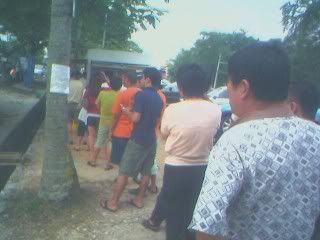 The stall is a mobile van/lorry stall, selling rojak only. Next to the stall, was another regular stall selling cendol.
I parked my car nearby and joined the queue. It took me about 20 minutes before I could made my order.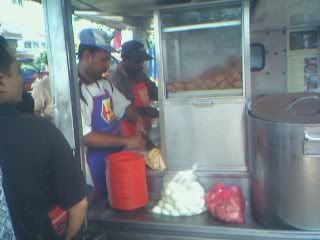 Papi : Boss, kasi rojak 3 bungkus.
Boss : Wokay.
Papi : Kasi sotong ah.
Boss : Wokay.
Papi : Telur 2 bijik.
Boss : Saya pun....
OK, I made the last conversation up. Two guys handled the orders from the customers. The dude with the blue apron will take your order, and proceed to serve it in either a plate (for eat-in) or in a plastic bag (for take away). Using a
Hatori Hanzo sword
knife, he swiftly cut the prawn cracker, coconut cake, egg, and squid into the plate or the bag. Then he passed it to the next dude in the red apron, who will put in sliced cucumber and turnip. For takeaways, he will wrap the whole thing up and put in a bag of pre-packed hot and sweet peanut sauce. For eat-in (well, actually you cannot
eat
it
in
the van, you can have it by the roadside), he will simply pour the sauce on to the mixed on the plate.
Judging by the queue, and also the 2 big buckets of peanut sauce, business is good. One of the bucket is almost empty when I got there.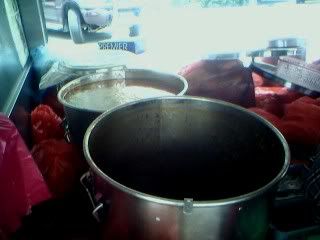 After I got my rojak, I went to join another long queue for the cendol. *sigh*
About spending about almost 45 minutes, I managed to leave the place with 3 packets of cendol on my right hand, 3 packets of rojak on my left hand and a very hungry stomach.
But we were dissapointed.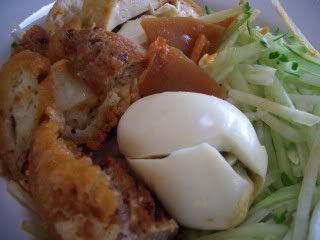 The taste is not as we expected it to be. It was good. That's all. Nothing special. We have had similar tasting rojak in the past. Same goes for the cendol.
Does it worth the 45 minutes waiting under-the-freaking-hot-sun? No.