Pisang Goreng
Ever queued just to buy pisang goreng? And I mean
really, really long queue
?
Taken with my lousy camere phone.


Last Friday, Mami had a job interview in Shah Alam. Yeah, she's thinking of working again, since she's really bored at home. But tell you about that later.
I wasn't working that day, so I decided to give her a lift. And went food hunting! I read about this pisang goreng near Shah Alam Komuter station in Section 15 (more like in Section 19) and decided why not!
The stall is really difficult to spot. It
is
near Komuter station, but not visible from the main road. Exiting from the Komuter station, go straight until you reached a left junction turning into a residential area. The stall (with BIG MPSA sign) is after this junction.
And the queue is unbelievable! I was lucky there were only 8 person ahead of me, but the people keep coming, and coming, and coming....
Azmi Pisang Goreng was operated by a few malay youngsters, with loads of pre-cut pisang, ready to be fried. And they have 8 big woks frying these banana fritters.
So is this '
best goreng pisang in town
' good? It's actually quite nice, the bananas (pisang awak-awak as stated in the menu) are cut into smaller pieces, lightly battered and fried. It was really crispy, and the banana is sweet and soft. A bit oily though. But I also think it is good because it is served hot, fresh from the wok, since it is snapped up quickly the minute it is removed from the wok. So you get hot pisang goreng everytime.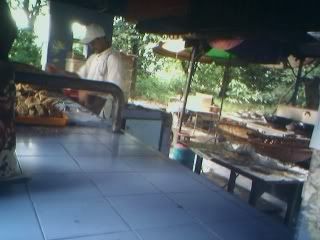 It costs 10 cents per piece. I bought RM2, and I think I got about 24 pieces in the bag. There is also a container where they poured all the leftover crispy bits (I love these!), and you can scoop all you want! The makcik in front of me even took her own sweet time choosing the bigger pieces! She walked away with 2 big bags of these.
Oi makcik! kalo free pun, takanlar sampai berbag-bag! Ingatlah orang kat blakang nie oi.
There's even a branch in USJ10 Taipan, maybe I'll try there next time.