Pau Wow
One day at pasar malam:
Papi, Mami : *walk walk see see*
Papi : Eh? you want that? *point point*
Mami : Errr....OK.
Papi : How many?
Mami : One enough lor. But you go buy, I malu lar.
Papi : Why malu? Nothing what?
Mami : Aiya, you go buy lar.
Papi : OK lar, OK lar.
*Walk over*
Papi : Boss!
Yip Chi-Mei
Big Pau
! One!
Pau Boss : OK!
Papi : Give me nice one ah...I don't want the leaking Pau.
Pau Boss : OK OK..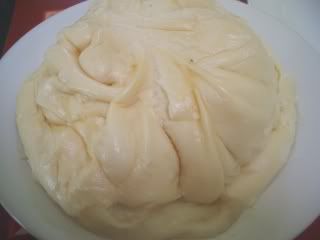 That's the monster Pau on our 12-inch plate. Enough to feed two.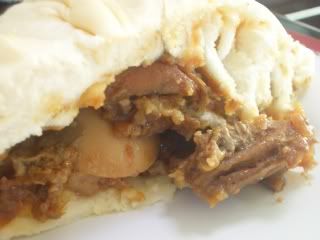 It has chicken, pork, turnip and some other ingredients inside.
A pau businessman probably came up with this idea of a big pau after a Cat 3 Hong Kong movies marathon. So at the end of the movie marathon, he probably felt hungry and while eating his normal-sized pau, he wished it was Amy Yip's "pau" he was holding. Eureka!! LOL!! So Yip Chi Mei Dai Pau was born.
Pasar Malam: Night Market found in Malaysia

Pau : Chinese Buns

Cat 3: Hong Kong movie rating system; Adults only.