Trip to Kuantan
After reading
Belacan's
(aka
Buaya69
) and
Twinsmom's
trip to Kuantan, we also feel gatal already. So, over the week long Deepa-Raya holiday, we took the opportunity to take a break and drove to Kuantan for a 2D1N stay.
Initially, we made a last minute booking in one of the resort in Cherating. But thanks to Twinsmom, and some bad reviews I found on the net, we decided to cancel that, and went for
Swiss Garden Resort and Spa Kuantan
instead.
The resort is beautiful and clean. The rooms are big and spacious, and most importantly, clean. We were upgraded to a bigger room, thanks to the manager. Getting there can be quite tricky though, if you don't know your way around Kuantan. If you plan to go there, make sure you have the maps (downloadable from their website). To make things worst, the only Swiss Garden signboard you will see is the one 500 meters away from the resort. And only if you are coming from the Kuantan. If you have the map, note the main intersections name: namely Persimpangan Bunga Cengkih and Persimpangan Berlian.
The drive to Kuantan took us almost 3 and a half hours, with a lunch stop in Bentong. Being Deepavali, traffic was smooth. We reached the resort around 2pm and after checking in, we headed out to 'cari makan'!! :)
As we normally do, we went looking for 'kuih' in villages. Cheap and delicious. We found a few Ramadan Bazaars, got ourselves some kuihs and went cruising around town.
When it's not too hot, we went back to the resort and hit the beach! Yiyi really had some great fun at the beach.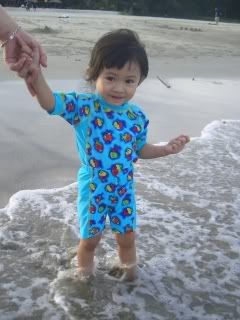 See, how happy she was.
She also had some fun building sand castles..
...and at the kids pool.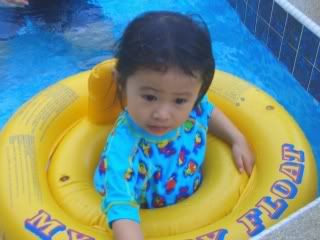 Dinner time was a bit dissapointing. While driving around town, we came across a restaurant named Pak Su seafood restaurant. I am not sure how the name came about but the operator is chinese. From outside , it looks good, so we decided to give it a try.
And we regretted it.
We arrived around 8pm and chose our table. No one came to clean or setup our table, nor to take our orders. I have to frantically waved at an auntie to get her attention, only to be told "wait ah, wait ah". After ordering, no one came to get us cutlery nor plates. And the food only came 1 hour 45 minutes later. :(
Well I am a very patience and understanding person. I can really understand that there was a crowd and the kitchen might be understaff, and it would take my food longer to be prepared. But when those people who came later than us and started to eat and leave, I could not take it. Despite numerous requests to them to check on our order, we only got a standard reply.
"Coming ah, coming already".
Yiyi was really tired of waiting and started to cry. At one point, I decided to leave and only pay for our drinks, when finally we got our food. One by one, slowly.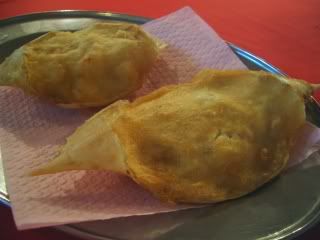 Stuffed crab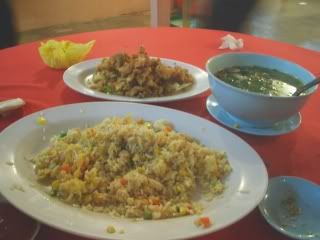 The taste? So so. The only dish we enjoyed was the spinach soup. Settling the bill was another long wait. And when the bill came, we were billed for things we didn't order. Real teruk.
The next day we hit the pool again. The kid's pool is only about 2 feet deep. Yiyi was able to walk in the pool without assistance. But she thought she was actually swimming. She said "Mami, Mami..Yiyi swimming!" Both Mami and I also took turn at the outdoor jacuzzi, and accompanied Yiyi at the pool.
Overall, it was a relaxing and fun trip. Most importantly, Yiyi had a great time, and we had a great time as well.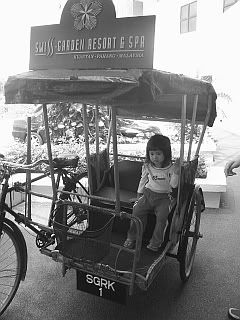 "Papi Mami, can we come here again?"