Happy Birthday !!
Happy Birthday to You.
Happy Birthday to You.
Happy Birthday to Yiyi !!
Happy Birthday to Youuuuu.......
Yiyi is one year old! ! yeay !!
She was born today one year ago. At this time in the morning. The situation in the delivery room is still very freshed in my memory as if it happened only few days ago.
Mami, with her legs lifted and straped to an inverted "L" shaped pole. Me, one hand holding Mami's hand while another hand clutching a stack of tissue papers. The doc, with butcher-style apron and PCK boots, with forcep in his hand, ready to go 'in'.
After some pushing and pulling, our angel was born. I was stunned and speechless. My mind went blank. It was silent, or maybe my mind was blocking all the sounds. But the midwifes were busy running around, doing something. Then I heard she cried. "Uuueehh....uuueehhh......".
The doc told Mami to keep pushing to expel the plancenta. I was still holding Mami's hand asking her to push. After a few moments, I was still asking Mami to "Push, Mami, push" when Mami said to me "Eh? Why you keep asking me to push? The doc is done". I went "Huh??".
I asked Mami, what went through her mind when she first saw Yiyi. She said "The first thing I noticed is her nose. She has your nose. And her eyes are so bright and big. She looks like you". I told her "Looks like me? Imagine I am a girl and wearing a girl's dress". Mami laughed!
Looking back we realised how fast time goes by. Soon she will be going to school, sitting for her exams, asking for her first handphone, her first car, her first job, then boyfriends, getting married, having childrens.........
OK, OK I am fast forwarding. Let me rewind, sit back with Mami and celebrate Yiyi's first birthday.
Happy Birthday Yiyi !! Papi and Mami loves you...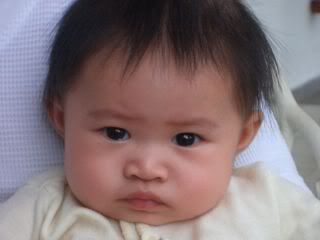 5 months old.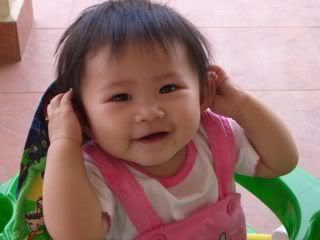 6 months old.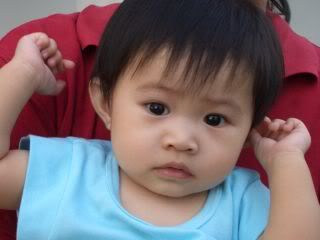 9 months old.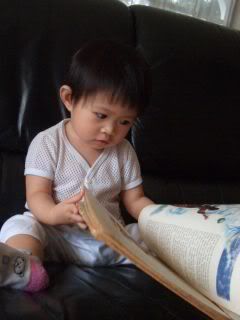 11 months old.