Birthday Celebration
Yesterday we celebrated Yiyi's first birthday at a nearby restaurant. We ordered 2 tables, for 17 people, but only 16 turned up coz a nephew had a some school event to attend. My MIL and SIL came all the way from Melaka. Mami's brother and sister with her family, who stays nearby, joined us too.
Yiyi was dressed up like a princess in a nice pink dress that we bought for her birthday. It was also the first day that she could wear shoes, we bought a nice pair of pink shoes to match the dress. It is a Chinese believe that a baby can't wear shoes before she's one year old. When we asked her "Yiyi, mei mei.", she will look and touch her dress and smile. "Mei mei" means beautiful in Mandarin.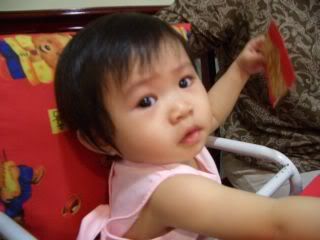 "Papi, look, I got an angpow!! I am rich."
The food was so-so, I was quite disapointed actually. Maybe we were too busy to enjoy the food, because Yiyi was restless, which she normally does when she is surrounded by people and kids. She wanted to be carried all the time!
We asked the kitchen to prepare the chicken and leave the drumstick intact, instead of chopping it to smaller pieces. So that we could give the whole drumstick to Yiyi. But the drumstick turned out to be bigger than her head!! And when she saw that piece of meat, she was scared to even touch it! ha ha ha.... Anyhow, with some assistance, she took a few bites but disliked it. So we 'ta pau' it back home.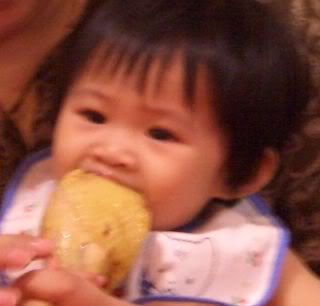 "Mami, why this ice scream so hard one?"
I got the birthday cake from a bakery near the restaurant. Special order: a 2kg Tiramisu with wonderful decoration on top.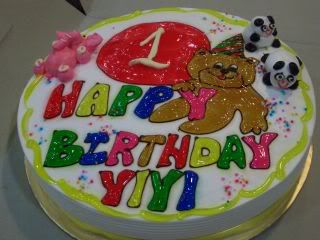 "yum yum"
A few days before, we have taught her how to blow out the candles. Of course she could not blow out the candle by herself, but she will puffed up her face and blow, making "pffff...ppffff" sound, spraying saliva all over her cloth. But when we asked her to blow out the candle on the cake, she looked blur. She simply looked around with innocent eyes, wondering what are these people doing?? ha ha ha...
The dinner ended around 10pm. And Mami and I was exhausted!! Phew! Yiyi was jumping and kicking and laughing, with Mami's nephews running around. I think Yiyi was happy and enjoyed it. And thats what important.
MIL: Mother-in-law.
SIL: Sister-in-law.
Angpow: Red packet with money in it.
ta pau: Cantonese meaning to pack and bring away. But apparently in Hong Kong, 'ta pau' loosely use to mean death.