Shopping for toys
We spent the last Friday searching for a toy for Yiyi. So we went to Toys 'R' Us in Subang Parade. After searching up and down, high and low, we found nothing that we like (yeah, we are paying for it, so it has to be something we like, ha ha ha).
And there are so many of them. There are toys that are suppose to develop baby's motor skills. Toys that teach the baby to learn shapes and colors. Toys that teach the baby ABC and 123. With so many choices, we got confused.
Papi : How about this Shape Sorter?
Mami : Any music?
Papi : No.
Mami : How about this Melodic Story Book? For 18 months and above.
Papi : Huh? 18 months woh? She is now 10 months only leh...
Mami : Can last longer mah...he he he
Papi : No lar. OK, OK, how about this? Gundam Mobile Fighter Action Figure: Burning Gundam? *wink wink*
Mami : Huh? Eh you wanna die ah?
Papi : he he he ...for me lah...
Finally we left Subang Parade empty handed. But in the evening, we went to Mid Valley Toys 'R' Us, since we were having dinner there with our friends/ex-college mates/ex-housemates. We went for a quick look at the store. There we found it.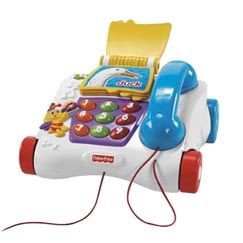 It's a wheeled telephone with a flipping phonebook of cat, horse, duck, puppy and a pig. OK, a non-halal toy. Everytime u flipped the phonebook, the animal on the card will sound: meow meow, woof woof, oink oink, and a melody will play.
Pressing the digits and the telephone will say the number. Lifting the handset, the phone goes "Hello!", putting down the phone goes "Good Bye!". Quite fun.
How did she like it? When we showed it to her, she started jumping and pounding on the toy. She likes it a lot!
And we are 80 ringgits poorer.