A day at 1U
We went jalan-jalan at 1U over the weekend. Yiyi's was extremely excited about it.
1Utama is the only shopping mall that I could lose my way in it. It's huge, and the structure is really confusing. And most of the time, I could only cover about 50% of the shops before my legs complained.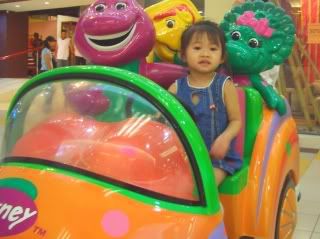 'That's Yiyi with Barney and friends"
She wanted to get on this Barney ride, but when Mami put in a coin, she wanted to get off. LOL!! Scared wor.
But once she got the hang of it, she started drifting!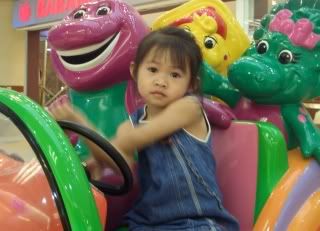 "Screeccchhh..........."
Went to Hakkakaya for lunch (Dun ask me where it it, coz I have no idea. It' next to Chicken Rice Shop). No photos though, too busy eating mah. Their Chicken Curry is a must try, goes well with their steamed rice. Mami had porridge and Yiyi had 2 half-boiled eggs, yummy!
We walked around a little, windows shopping. That's when Yiyi found her twin.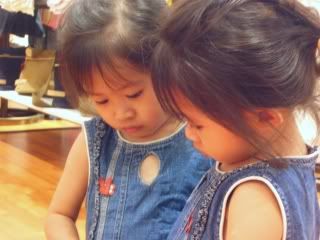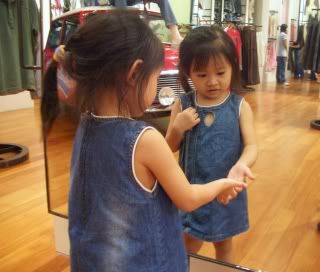 She knows it was her in the mirror, and she knows how a mirror works. But when I showed her the shots I took on the digicam, she was confused. hehehe...
"Papi, why got 2 Yiyi?"
"That's you in the mirror."
"2 Yiyi, One Yiyi here, one in the mirror""
Looking at her with the mirror, really put a smile on my face. :)