Genting
Last weekend, in order to experience the real Genting (and also to escape the haze lar), we went up to Genting Highlands. :)
Actually we have been planning to go up with my parents. Since my dad wasn't working last weekend, and my brother just bought Yiyi a jacket, so we decided to drive up. The weather was cool and most importantly, no haze.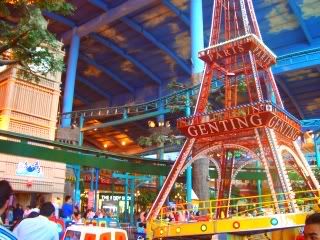 Indoor Theme Park
As usual, my parents went to 'lose' at the casino. LOL!! So, we went to the indoor theme park, located at the First World Hotel.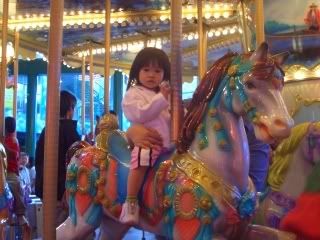 Yiyi on the Carousel! Her favourite. Mami shy shy.
We purchased a few tickets for the ride, the Carousel (RM4) and the Rio Float (RM4). But then, we met a lovely family, who offered us their one-day unlimited ticket.
"We are leaving. So, have fun with the ticket." they say before leaving.
I was stunned for a while, but thanked them. Apparently they didn't get their wrist band, so that they could passed the ticket to other people. Clever. Well, not right lar, but I'm not complaining. :)
So we went to one ride after another, then my parents joined us, and they too, went for the rides. Yiyi must have ridden on the Carousel at least 5 times. Of course we didn't exchange it for the wrist band as well, but we were reminded to change the ticket by the staff manning the rides all the time. But have to make 'blur' face lar. Until at one point, the staff got pretty irritated LOL!! But we were already planning to leave. hehehe...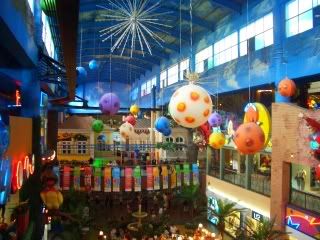 View from the Rio Float ride.


Of course when we were leaving, we passed the ticket to other people. I spotted a guy with his son, and his son was looking at the carousel. So I approached him, gave him the ticket, and asked him to bring his son for a ride or two. But he looked blur, like I want to cheat him like that. Anyway, I passed the ticket to him, and walked away. When I turned back, the guy and his son were heading to the Carousel. :)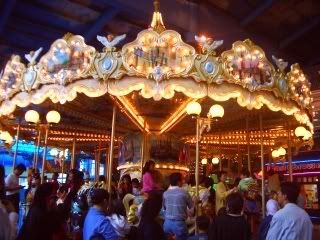 The Carousel.
We had a great time, especially Yiyi. And that night, she was talking in her sleep "Yiyi want to play, Yiyi want to play!".