API passed 500!
The API has passed the 500 mark, as of 11am today.
Pelabuhan Klang 529
Kuala Selangor 531
Petaling Jaya 349
Shah Alarm 371
Kuala Lumpur 321
We went out during lunch time to get some baby stuff from a hypermarket in Subang. The traffic was a bit chaotic, with visibility down to around 150m.
At the hypermarket, we felt the situation was a bit chaotic as well. Food stuff like Maggi Mee, Eggs, Biscuits were hot items. The hypermarket even put a limit of 2 for each customer. I went to get my favourite luncheon meat and found all 'sapu bersih'.
Driving back to the office, again the traffic is real bad. Cars were slowing down because visibility was really poor.
Can you see the Motorola Bridge?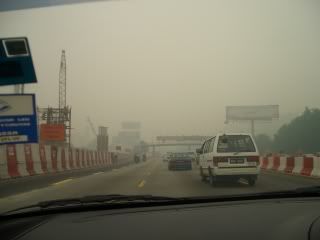 Nope, not there.