Spring Roll
Thanks to
Lilian
, Mami made fried popiah for me over the weekend!! Yeah!!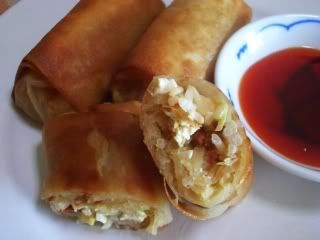 We printed Lilian's post, and went shopping. The popiah skin, turnip/sengkuang, taukua, and beansprout. We didn't put the french bean and the celery, but we put in fried egg and shrimp instead.
But on the day Mami wanted to cook, we lost the recipe! It miraculously appeared after we finished the popiah.....*Twilight Zone theme*. So, we ended up cooking it 'main agak-agak' only. Common sense lor.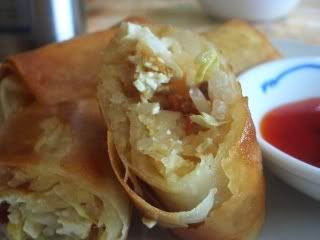 Looks good eh?? :)
While Mami's not a fan of fried food, it was heavenly for me. The crunchiness of the popiah skin, the sweetness of turnip, and juiciness of fresh shrimp. Yummy!
At one point, Mami tried to eat it 'basah style', aka without frying the popiah. Of course, the ingredients were all cooked.
"My colleague said can eat like this", Mami taking a bite at the popiah basah, moments before spitting it out. "Yuck", she complaint, while I laughed at her, happily chomping on my fried popiah.
It was so good that I 'walap' all of them and kept thinking of the popiah. hehehe... Thanks Mami. :)