Holiday Up North - Part 2
We didn't get a suitable hotel in
Ipoh
. One that is cheap, comfortable, and no extra sound effect at night (if u know what I mean *wink wink*) . So we decided to travel up north a little bit, to Taiping. :)
Once we reached Taiping, we went searching for a hotel. To our surprise, most of the hotels were fully-booked! We went straight to Legend Inn, a hotel located in the city centre, only to be told it was fully booked. We were about to leave, when I decided to get back to the counter for some directions to another hotel. It was then, someone cancelled their bookings, and we were able to get a very big room! With Astro sumore!
So what did we do in Taiping? Eat, of course! LOL!!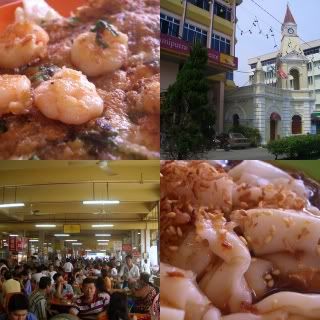 Thanks to
James
, we were able to find some good place to eat from his blog. We tried the popiah,
fried koay teow
, satay,
chee-cheung-fun
, nasi lemak.... Two words to describe it: cheap and delicious! And yup! we tried the
Heh-chien
as well!!
The next day, we decided to check out
Taiping Zoo
and the beautiful
Taiping Lake Garden
.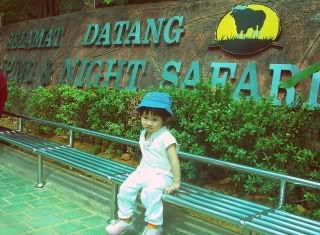 We were really surprised and impressed by the train ride in the zoo. IMHO, the ride is better than the one in
Singapore
. The driver provides the naration for the entire duration of the ride (not a recording like in Singapore Zoo). He even took some time to explain the exhibit, cracked some jokes and told us where to look for the animals.
While on the train, passing through the chimpanzee area, I was admiring the fauna and flora of the zoo when I was interupted by Mami.
"Papi!! Quick!! Look!!! LOOK!!!", she yelled.
"What?"
"There...Look!! There!", she pointed at the chimpanzee enclosure.
"Where? What?"
"Look at the chimpanzees.", she said, giggling. "They are doing it...you know.."
All I saw was a rolled up ball of black fur. But the Malay family behind us saw it too. They were all giggling at the 'action'. The chimps realised the best time to make a 'p0rn0 movie' is when the train passes by. But Mami was more excited than the Alpha male. hehehe...
We finished the tour around the zoo, and headed back around 3pm. Yiyi went to sleep moments after we entered the highway. We made a stop at Tapah Rest Area, to get some juicy sweet Water Apple from Taiwan (Jambu Air).
At home, Mami and I was just chatting about the trip. I remarked to Mami that Taiping is a good place to retire. Cheap stuffs, friendly and polite people, slow life; Mami seems to agree too.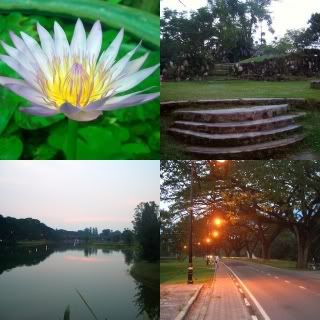 Well...maybe...just maybe. :)