Tuan Nien Fan
Tuan Nien Fan or the Reunion Dinner is the meal (lunch, late lunch or dinner) that a Chinese family have during the Chinese New Year's eve. All members of the family will go back home (or try to) to have this reunion dinner, which is normally held at the 'ancestral home': the main home of the eldest member in the family.
Every year we went back to my parent's home to celebrate Chinese New Year. Our 'balik kampung' journey normally take us about 5 mins of journey as their house is located near our home.
Early in the morning, my mom would wake up early to prepare the 'tuan nien fan'. Among the dishes that she will normally cooked are chicken, fish, prawn, stuffed chilli, and vegetable. Her cooking is normally a combination of Hainanese and Hakka dishes.
Hainanese Chicken Rice:
Boiled kampung chicken with fragant rice.
Special Hakka Chicken Sauce: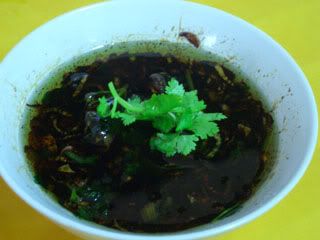 Fried onions and garlic with light soya sauce, thick, black soya sauce and oil.
Hakka Stuffed Chilli (ala Yong Tau Foo):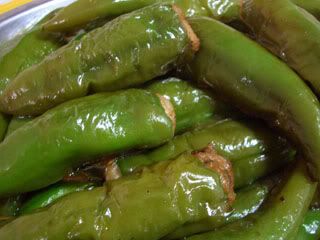 Fried Green Chilly stuffed with minced pork, fish and prawn.
Fried Prawn: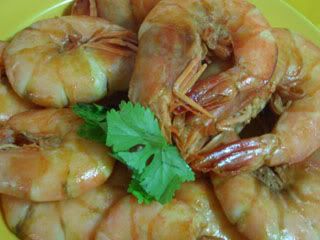 A simple prawn dish with only salt and garlic.
Mom's Special Fried Chicken: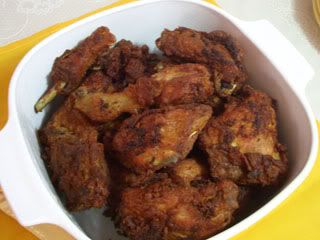 Fried Chicken with mom's special recipe.
Steamed Fish: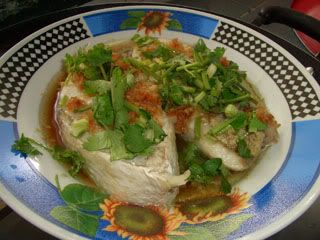 Steamed fish with garlic and coriander.
Stir-fry Mixed Vegetables: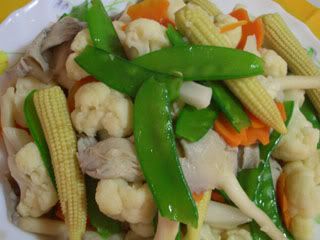 Stir-fry mixed vegetables, baby corn, mushroom, carrot, cauliflower, bean with chicken stock.
Chicken Soup: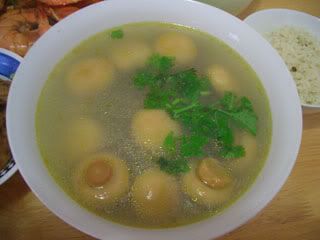 Chicken Soup with button mushroom.
Tuan Nien Fan: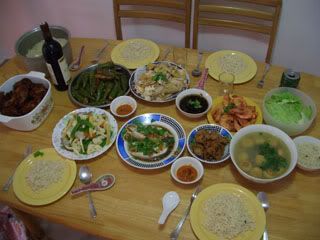 Yummy!!