Blogging in Jakarta - Day 3
Well, not exactly in Jakarta, I am back in Malaysia. Hmmm...home sweet home.
Anyway, yesterday was my last day in Jakarta. We tried to extend our stay for another day, but the flight back on Thursday is fully booked. Maybe because of the long holidays.
I was informed by my colleague that the presentation was successful and the clients were happy with it. Maybe because of my *ahem* ...presentation skills, or my in-depth knowledge of the topic, or maybe it was the Selangor Pewter keychain and mug we gave to each attendees. But as long as they are happy, we are happy. :)
As always we went makan makan. Nasi Padang at a restaurant named Ratu Sari in Sogo shopping complex/Hyatt Hotel. It was a very unusual dining experience, they actually served all the dishes on the menu on our table. So many dishes that they actually have to stack the plates on top of one another. Which is good, because you get to see all the dishes before you take your pick.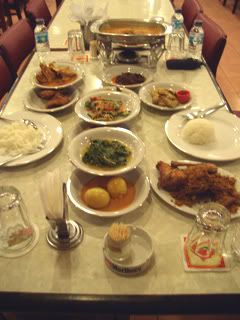 Nasi Padang
After lunch, we went back to the hotel to pack. Again, on the way, we were stuck in the horrible Jakarta traffic jam. Took us almost an hour to reach the hotel, which normally took us 15 minutes. On the way, we saw some Jakarta's version of Tuk-Tuk: Bajai.
Bajai
Judging from the traffic, we decided to leave extra early for the airport. And lucky we did. There was a downpour earlier on the highway, few accidents, and it was chaos! Took us almost 2.5 hours to reach the airport.
So my impression of Jakarta? It's rich but yet it's poor. The gap between the rich and the poor are huge! Here we have people driving big cars, having meals in big, lavish, grand hotels, and still there are some poor people and children with barely any proper cloths on, sleeping on the street, trying to make a living by selling souvenirs and bottled mineral water on the highway. It was a big contrast.
And the bombing did changed their daily life. Everywhere we go, there are security officers. Driving in to a shopping complex, hotels, even private buildings, your car will be searched and scanned. Walking, and you will body-search and questioned. However, I felt quite safe in Jakarta. The people are friendly and nice.
Too bad we were rushing to come back. I was hoping to see more of Jakarta. Let's hope that our trip and presentation bears some fruit. :)
Some of the pictures I took in Jakarta: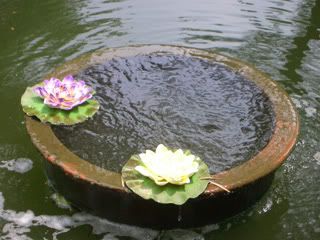 The nice pond behind the hotel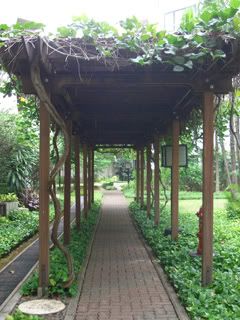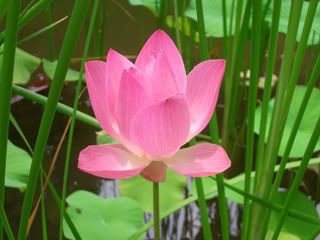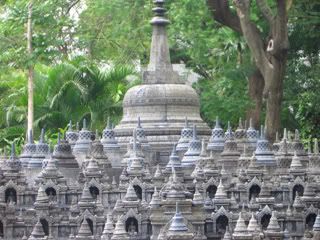 The hotel has a replica of the Borobudur temple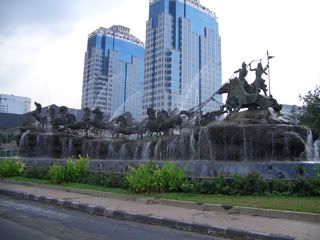 This is a famous monument/water feature/fountain in the city centre, but I don't know what it's called.
Too all Malaysian, Happy Deepavali and Selamat Hari Raya Idul Fitri, err..I mean Aidil Fitri.
Note: In Indonesia, it's Selamat Idul Fitri. :)