Blogging in Jakarta Day 2
We stayed at the five star Borobudur Hotel. Nice, grand place, with excellent rooms.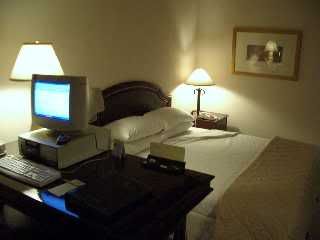 My room, equiped with a PC for internet.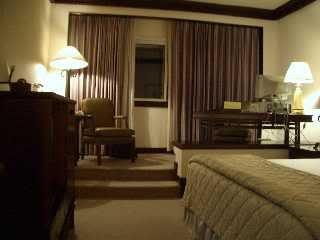 Nice....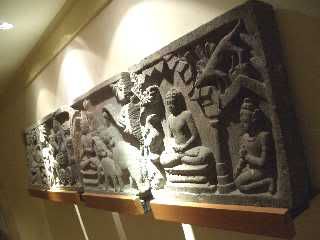 A decor in the hotel.
Well, the meetings and presentation went quite smoothly, not to mention tiring. The traffic in Jakarta didn't help either. It seems like it is jam packed all the time! Travelling from one place to another is a nightmare. A 2-lane road became 6 lanes. The 'mobil' (car in Bahasa Indonesia) squeezed through every inches they have got on the road, honking others to give space, passing hi-lights to tell the front to keep moving. Changing lanes is a gamble, you just do it, and hope the other guy stopped in time. Stuck in Jakarta's traffic was really an experience by itself. You get to see the daily lives of the people of Jakarta; the stress, the rush, the ugly side.
So what's worst than being stuck in a jam for 2 hours on a hot day, and you are late for your meeting with the client?
Answer: Being stuck in a jam, and you heard an alarm beeping somewhere and suddenly you realised that you are in the middle of a railway track, and the alarm that you heard is to warn you of an incoming train!! And the cars in front are not moving!!! Suddenly, a scene from the "The Most Shocking Incident Caught On Tape" show was playing on my mind. Yeah, the scene where a fast moving train caused a major destruction when a truck thought it could beat the train and went through the red light. Fortunately, the traffic ease up, and we could move forward. *phew*
After the meetings, we went jalan jalan at a nearby shopping. Believe it or not, we have to be checked and scanned by security before entering the shopping complex. WTH? All because of the bombing. Nothing special about the shopping complex though. It looks just like our Kotaraya, with lots of mobile phone shops, fast food and RM4 DVD. ;)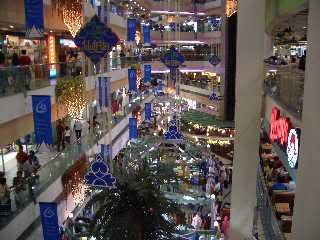 Plaza Atrium
Dinner was excellent!! If you want to have Sundanese food, look for Pondok Laguna. Where is it located? I don't know. It seems to be a popular place, judging on the crowd. We had to wait for few minutes before a table was available.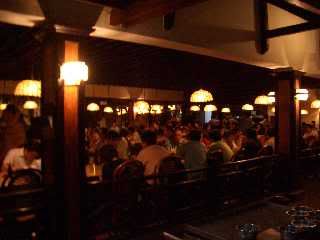 The crowd at Pondok Laguna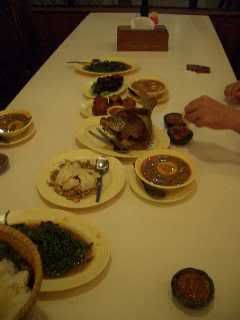 We had Kangkung Goreng (top most), Grilled Cumi Cumi (squid), some sort of soup, Indonesian style, Seafood beancurd (the ball-like dish, just above the fish), Fried fish (excellent!! a popular dish here), and Indonesian Salad.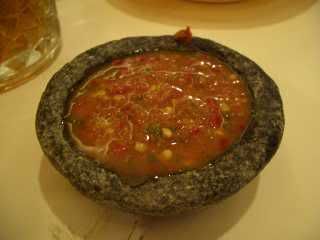 Sambal Belacan - My colleague had 4 plates of these. Super Hot!
At the end of the meal, I was so full, I could barely move! ha ha ha...
Hmmm....looking forward to Nasi Padang tomorrow!! ;)