Yiyi's First Monorail Ride
Last Sunday, Yiyi took her first monorail ride.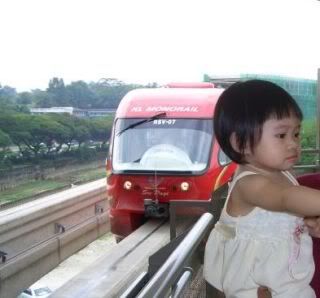 "Look Mami, the train is coming!"
We parked our car at Tun Sambanthan (free parking he he he) and took the monorail to Imbi aka Berjaya Time Square. It was also the first ride for Yiyi's grandpa and grandma. The ticket price, which depends on the distant, costs Rm1.60 per trip from Tun Sambanthan to Imbi.
Inside the train, she was a bit quiet, which is unusual, especially when we sit down while carrying her. I think she was just checking out the surroundings.
Even the driver took some time off to play with her.
"Look Mami, no steering wheel"