Taman Negara - Day 1
A couple of weeks back, we went for a 'holiday' in Taman Negara. It was a company-trip organised by Mami's company. She wasn't really into adventure type of holiday, you know, jungle trekking, hill climbing, so I tagged along.
Taman Negara, which means 'National Park' in malay, is the world oldest tropical rainforest, at 130 million years old. It spans three states: Pahang, Terengganu and Kelantan, with the Taman Negara Pahang covering the largest area, followed by Kelantan, and Terengganu. It was initially known as 'King George V National Park' when it was established in 1938, and then renamed to Taman Negara after the Independence in 1957.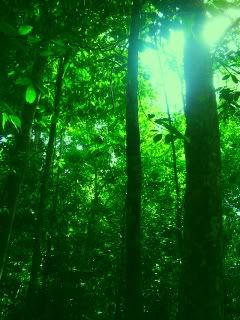 130 million year old, wow!
We departed in the morning, making our way towards Jerantut, through Karak Highway. There were two buses, a big one and a smaller one. We stopped a couple of times on the highway, for a toilet breaks. By lunch time we reached the rest house in Jerantut.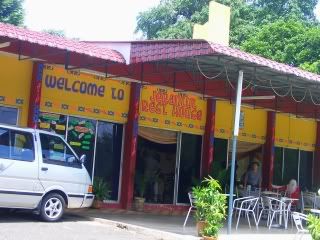 Had lunch here
After lunch, it was another 1 hour of drive on smaller and narrow roads to reach our resort in Kuala Tahan, the RainForest Resort.
This is where we stayed.
From Kuala Tahan Jetty, Taman Negara is just across the Tembeling river. There are many floating restaurants here, which also serve as a jetty.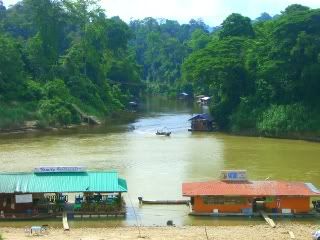 Kuala Tahan
The first itinery was cave exploration. We took a boat to get to the entry point, and then walk for about 45 minutes to get to the cave. 10 minutes into walking, it started to rain.
"Wah raining lar", someone said.
"Of course lar, it's the
rain
forest what?", the other answered.
What we thought to be a simple stroll in a cave, like Batu Cave, turned out to be a
caving
activity in
Lobang
Gua Telinga or Ear Cave.
Lobang Telinga
If you have phobia of tight spaces, darkness, snakes, bats, reptiles, this is not for you. We have to climb, crawl, squeeze through tight spaces, dive under water, and at the same time withstand the smell of bat droppings. These bats are all over the caves, hanging only inches from your head. You can simply reach out your hand and touch them. They are that close! The torch lights that they asked us to bring along has little use, simply because you need both of your hands to climb and crawl. A headlamp would be more suitable.
By the time we got out on the other side, we all smelt like bat droppings. Yuck! But all in all, it was fun. The cave, I think, is not too hard, probably suitable for caving beginners.
The most important transport is the long boat. The long boats can sit up to 12 persons. This is the mode of transport we used for travelling up and down the river, to get to various places in Taman Negara.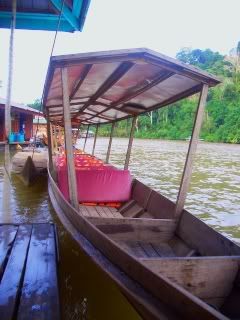 Long Boat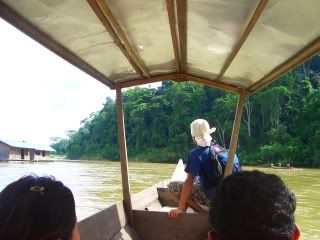 That's one of our guides in front of the boat
After caving, we went back to the resort to clean up. Then came out for lunch at the floating restaurant, and then head to Mutiara Resort, just across the river, to watch a video presentation of the national park. After the video, we went for Night Walk.
Most of the animal are active at night. We saw a couple of wild boars, insects and dears. But according to the guide, it's really difficult to see them because they will normally run away before we could even get near them.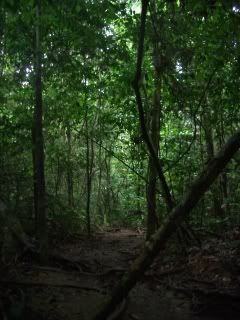 Thick jungle
We then headed back to the resort, all exhausted and tired. We were so tired, we crashed on the bed hoping to get enough rest for Day 2.