Instant Noodle
Do you know there's a restaurant that serves drinks in funny container?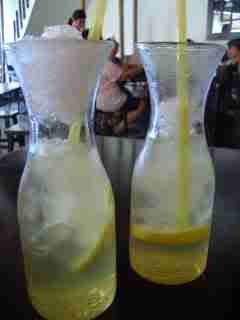 That's their lemon honey, very nice and refreshing. Especially on a hot day. I saw some funny looking 'glasses' for the other patrons. The vase, the nescafe glass container, the 'tau-chu' bottle, very creative.
The restaurant is called Wan Chai Kok. Located in the shoplots opposite Giant Puchong. I think you can also find them in IOI Mall Puchong.
But we were a bit dissapointed with the food though. I had some snacks like dumplings, cheese roll, and spring roll. Nothing to shout about. But the portion is too small and expensive.
But Mami ordered this: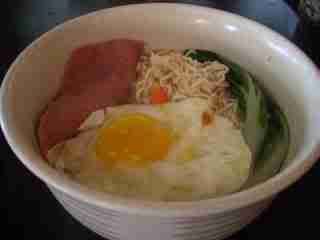 In the menu, it looked delicious, mee in soup based with an egg and some hams. But it turned out to be Maggi Mee aka instant noodle! And it's not even 'perisa kari'... aiyo. We were charged RM4.90 for this 'high-class' maggi mee. Even the mamak version costs only RM2.50.
I think we should have gone for their steam rice. Lots of varieties, and quite popular with the patrons there, must be nice. But then, we could be wrong.