Satay Celup
If you are from Malacca, you should know what Satay Celup is.
Satay Celup is similar to 'Lok-Lok' but instead of dunking it into a boiling pot of water or soup, you dunk it in a pot of boiling satay sauce. It is a variety of raw and semi-cooked seafood, meat and vegetables on skewer that you cook by dunking it in the boiling satay sauce. There are a assortment of fishballs, squids, prawns, pork, chicken, beef, mutton, fish, kang kung, foo-chok, eggs, spare parts (pig's ear, head skin, stomach, intestine) and many many more!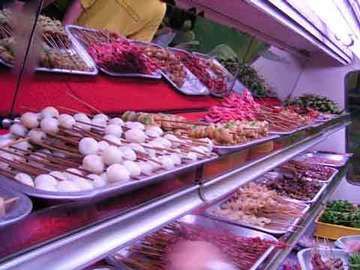 Choices...choices..
(Thanks to clfoo, a forumer in usj.com.my for sharing this photo)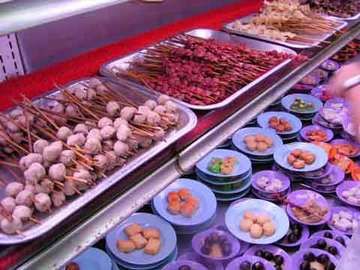 More choices..!
(Thanks to clfoo, a forumer in usj.com.my for sharing this photo)


I first tasted this type of satay about 7 years ago. That time I was quite new to Malacca, Mami's hometown. Mami's family likes to bring me around Malacca town and brought me to try some of the delicious delicacies in Malacca, the chicken rice, the popiah, Portugese baked fish, Nyonya food etc. So, one day they brought me to a satay celup shop in Jalan Ong Kim Wee. And I was hooked ever since.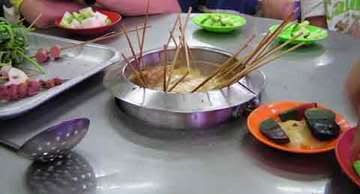 That's how you cook it in the satay sauce
(Thanks to clfoo, a forumer in usj.com.my for sharing this photo)


Last time, you can only find Satay Celup in Malacca. But not anymore. Yup, and they are now in USJ!! Yeay!! And we have been visiting them twice, ever since they started about a week ago. And the taste? Delicious!! It's comparable to the ones in Malacca. The food is fresh and nice. But less variety lar. Just started mah.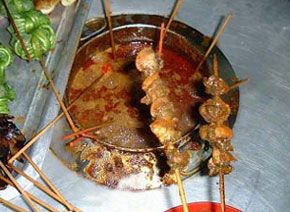 Cockles...yummy! Pic source: Cuti Malaysia

The restaurant is located in 27, Jalan USJ21/3, a corner lot. The banner says "Restoran Satay Capitol" but it's not related to Satay Capitol of Malacca. It's started by a family (from Malacca I understand) who just wanted to share this wonderful delicacy with other people. The aunty, if she's in the mood, she'll pop her Elvis Presley CD into the player. Price per stick is RM1 (Klang Valley mah).
Check out the usj.com.my
forum
for the review from USJ-lians. There's a map in there somewhere.
Give it a try! And go home with satay smell in your fingers. :) *sniff sniff*